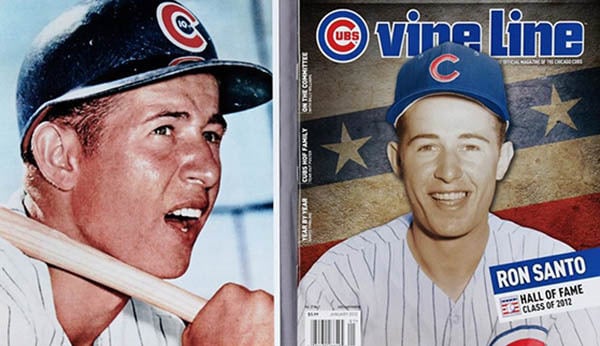 Zev Eleff
In the autumn of 1968, high school students enrolled at the Hebrew Theological College in Skokie, IL, returned to campus to greet a "celebrity." They spotted the Chicago Cubs' Ron Santo at a nearby park. The students flocked to the future Hall-of-Famer, one of the baseball legends that nearly carried the Cubs to the National League pennant one year later. Ever the hometown and community favorite, in 1971 the local "Sports Lodge B'nai B'rith" cosponsored "Ron Santo Day" at Wrigley Field.
On this occasion, interestingly, the Orthodox youngsters behaved like other Chicagoans back then, and throughout the franchise's long history:  they embraced their "north-side" team with great cheer and a degree of cynicism. Whether that will change depends on the Cubs play during the next week or so. In the meantime, here's how the high school boys reported the event in their student newspaper:
A pleasant discovery was made on Thursday, Sept. 26, by several students in the Yeshiva. Ron Santo, star third baseman for the Chicago Cubs, was seen playing football near the Yeshiva campus. Shortly, about 50 Yeshiva boys flocked to the scene to collect his autographs and meet the star. Santo was enjoying all this attention till some joker yelled out, "Hey, why are we all fooling around with him. He's only hitting .250!!" However, since Santo is not only a great baseball player, but also a very good sport, he took this jibe good-naturedly. All in all, it was a great thrill for all of us and we are truly grateful to him for giving us some of his valuable time.
— "A Celebrity Visits the Yeshiva," Yeshiva Reflector 1 (October 1968): 8